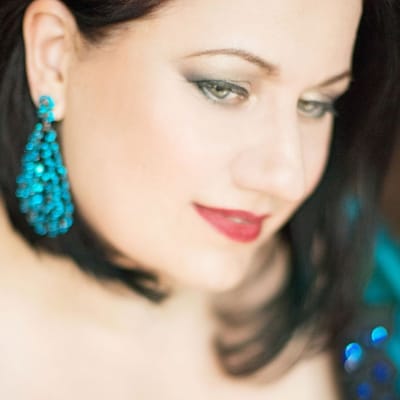 Studies
Liszt Ferenc Music Academy: piano teacher, singing teacher, chamber artist, opera singer Master of Arts degree.
Prizes
2010. Cena Thalie,Praha - Thalia -prize, Prague
2010. Diva 2009 ,Brno – Diva-prize, Brno
2014. Green Room Award 2013, Melbourne
2016. Hungarian Order of Merit Knight's Cross Budapest
Csilla Boross started her career in the Operastudio of the Hungarian Opera House in 2002. She made her debut in 2003 as Konstanze. From 2008 she's been a member of the Janácek Theatre and meanwhile she became a celebrated artist of Theatres in Prague then in 2 years she made her international debut in Italy, and right after in the United States, starting her international career.
Her rich repertory embraces the lirico spinto, dramatic, dramatic coloratura soprano roles from baroque to nowadays pieces.
Her iconic role is Abigaille of Verdi's Nabucco with which she exploded into international musical life.
The world's leading conductors she's been working with
:
Riccardo Muti, Donato Renzetti, Marco Armiliato, Daniel Oren, Nicola Luisotti, Philippe Auguin, Edo de Waart,
Ondrej Lénard, Paolo Arrivabeni, Lü Jia, Marco Guidarini, Roberto Rizzi Brignoli, John Fiore, Jan Latham Koenig,
Jader Bignamini, Will Humburg, Asher Fisch, Tomaš Hanus, Tomaš Netopil, Robert Tuohy. . .
The world's leading stage directors she's been working with, or took part as leading role in their productions:
David Pountney, Franco Zeffirelli, Giancarlo Cobelli, Lorena Maza, Jean-Paul Scarpitta, Yoshi Oida, Thaddeus Strassberger,
Bernard Uzan, Chiara Muti, Werner Herzog, La Fura dels Baus, Ralf Långbacka, Henning Brockhaus, Roland Aeschlimann,
Hugo de Ana, Frédéric Bélier- Garcia, Federico Grazzini, Arnaud Bernard, Sergio Morabito, Jiří Heřman, Tomas Pilař, Jiří Nekvasil,
Andrea Cigni, András Mikó. . .
Places around the world she made success:
Italy: Roma, Trieste, Modena, Verona, Palermo , Torino, Pisa, Ravenna
United States: Washington DC, Philadelphia, Palm Beach, Pittsburgh, Metropolitan Opera (cover)
Australia: Melbourne
Mexico: Palacio de Bellas Artes
Switzerland : Geneve
France: Lyon, Montpellier, Marseille, Limoges
Spain: Peralada
Japan: Tokyo, Osaka, Nagoya
China: Shanghai, Guangzhou, Macau
Czech Republic: Prága, Brno, Ostrava, Plzeň, Litomyšl, Loket, Zlín, Mikulov
Slovakia: Bratislava, Banska Bystrica
Transilvania: Cluj
Russia: Saint Petersburg
Oman: Muscat
Finnland: Savonlinna, Helsinki, Kuopio
Summer festivals she used to attend:
Rome - Caracalla, Savonlinnan Oopperajuhlat, Festival Castell de Peralada (Teatro del Liceu), Smetanova Litomyšl, Plzeň Operafestival, Operalia Banská Bystrica, Loketské Kulturní Léto.
Csilla Boross started already in her early career being constant participant of oratorio and solo recitals. Meanwhile she found and still finds very important nurturing contemporary music, that's why she premiered many of those. Most worthy example is the cooperation with composer Ms Zsófia Tallér.
Nowadays she is heard singing R.Strauss: 4 last songs, R.Wagner : Wesendonck Lieder, Ravel : Shéhérazade, A.Berg : 7 frühe Lieder...
CURRICULUM VITAE
Csilla Boross first graduated as a piano teacher only after she received her Master of Music degree as a soloist singer from the Liszt Ferenc Academy of Music. From September 2003 onwards she has been a permanent guest artist of the Hungarian State Opera.
For several years, starting in August 2008 she was a member of the Brno Janácek Opera, the Janáčkovo Divadlo, where she sang, among others, Tatiana from Tchaikovsky's Onegin,Venus from Tannhäuser (the latter in Japan - including Bunka Kaikan in Tokyo - as well), the lead roles of La Traviata, Tosca, Macbeth, Madame Butterfly, Nabucco and Aida.
In 2009 she was the guest artist of the Prague National Theatre performing the roles of Elettra (Idomeneo), Fiordiligi, Donna Anna, Cio-Cio San,Tosca, Aida and Abigaille for the benefit of the music loving audience of Prague.
On March 20. in 2010 she was awarded the highest cultural award in the field of opera, the so-called
Thalie 2009 Award
for her outstanding performance of Madama Butterfly. In the same year she also received the professional award of the Brno Theatre, the
Diva 2009 Prize
.
Her international career took off in Trieste in 2010 with La Traviata's Violetta. In the same year she debuted as Abigaille of Nabucco at the Palm Beach Opera House. In 2011 on the 150th anniversary of the birth of Italian national unity she sang the role of Abigaille of Verdi's Nabucco. The performance was conducted by Riccardo Muti, her partner was Leo Nucci and the event was broadcast live by the Italian Radio and Television and the ARTE TV.
In the same year she was hugely successful as Manon in Puccini's Manon Lescaut on the stage of the Berlioz Opera House in Montpellier; the production was directed by Jean-Paul Scarpitta. She also sang the role of Tosca at the Rome Caracalla with Carlo Guelfi as Scarpia. The latter performance was directed by Arnaud Bernard, the conductor was Ascher Fisch.
In 2012 the audience of the Opera de Lyon could see her as Sister Angelica and Giorgetta in Il Tabarro as part of the Puccini Triptychon performances directed by David Pountney and broadcast live by MEZZO TV as well as shown on ARTE TV at a later date.
Her debuts at the Washington National Opera (conductor Philippe Auguine) and at the Philadelphia Opera House as Abigaille of the monumental Nabucco performances of Thaddeus Strassberger were also extremely well-received. In the summer of the very same year she sang Aida at the Savonlinna Opera Festival, her partner was Johan Botha; in Ravenna she was Sancta Susanna in Hindemith's opera conducted by Riccardo Muti. In October she debuted as Tosca at the Macao International Music Festival, her partner was Roberto Aronica, the performance was conducted by Lü Jia.
2013 brought her four new Verdi lead roles: in Rome, once again conducted by Riccardo Muti and directed by Werner Herzog, she was Lucrezia Contarini in I due Foscari, then at the Melbourne Opera as Amelia of the Un Ballo in Maschera (conductor: Andrea Molino) directed by La Fura dels Baus – for which she won the prestigious
Green Room Award in 2014
.
In Shanghai she also sang the role of Odabella of Attila (conductor Daniel Oren), and finally she appeared on the stage as Amelia from Simon Boccanegra at the Hungarian State Opera. In the summer she returned to the Savonlinna Opera Festival as Lady Macbeth.
The Palm Beach Opera audience could see her in 2014 as Lady Macbeth; in Geneva she was Abigaille in a production conducted by John Fiore and directed by Roland Aeschlimann and broadcast live by the Swiss Radio. These performances were followed by singing the role of Tosca at the Hungarian State Opera where her partner was José Cura.
In June she sang the title role of Norma in Palermo at the Teatro Massimo Opera conducted by Will Humburg. In the summer she saved the first night of Giordano's opera, Andrea Chénier by learning Maddaléna's role in a matter of days for the hugely successful performance at the Peralada Opera Festival where the conductor was Marco Armiliato and her partners were Carlos Alvarez and Marcelo Alvarez. In the second half of the season she was once again triumphant as Lady Macbeth in Henning Brockhaus's ambitious direction at the Muscat Royal Opera House under the conductor, Donato Renzetti.
Returning to her home country, she had a unique achievement singing both female lead roles (Venus and Elisabeth) of Wagner's Tannhäuser at the Hungarian State Opera. In the second half of the season audiences in Budapest and Rome had the unique experience of seeing her as Aida with Johan Botha and Fabio Sartori as her respective partners.
Her 2015-16 season was launched with Verdi's Nabucco – as Abigaille she had a roaring success at the first night of Opera Pittsburgh. Returning to Budapest, she had her debut as Elisabetta di Valois in Verdi's Don Carlos at the Erkel Theatre in November, and in February as Leonora in La Forza del destino in Geneva( broadcast worldwide ). At the end of the season she made her house debut in Opera de Marseille as Lady Macbeth after which she returned for the fifth time to Rome, this time with her beloved Abigaille of Nabucco.
In 2016 November she sang Tosca with Marcello Giordani at the Erkel Theatre in Budapest, where she turned back later as Aida and Suor Angelica. In February 2017 she made her debut as La Gioconda in Brno with outstanding success. In April she made her house debut as Norma in the Teatro Fondazione di Verona. In July she turned back to Rome as her beloved Abigaille in Nabucco.
In
2016
she received the prestigious
Hungarian Order of Merit Knight's Cross
for her outstanding performances abroad and in Hungary.
In 2017-18 she started with two house debuts in China , Zeffirelli's Aida with the Teatro alla Scala in Guangzhou under the baton of Maestro Renzetti and Andrea Chenier in Macau with Teatro Regio Torino led by Maestro Guidarini. This season is followed by Tosca in Budapest and her successful debut as Judith in Bartók's Bluebeard's castle at the Opera Limoges.
The season 2018-19 included Macbeth in Mexico,Nabucco in Plzeň, Tosca in Rome, Il Tabarro and Gioconda in Budapest ,Brno and Banska Bystrica and Aida cover at the Metropolitan Opera just to mention a few.
2019-20 started with Madama Butterfly at the Hungarian Opera in Cluj, which was followed by Nabucco in teatro Regio Torino under the baton of Maestro Renzetti.
During the "pandemic" summer of 2020 she performed her iconic role of Abigaille at Brno's Open Air Operafestival. She even made a role debut as Senta on Mr Tomasz Konieczný,'s side as Holländer in Wagner's Der fliegende Holländer.
Sadly the following performances were cancelled that season due to pandemia: In Brno Aida and Gioconda , at the MET covering Elisabetta in Donizetti's Maria Stuarda and Aida in Verdi's Aida ; Abigaille in Marseille , Lady Macbeth in Plzeň Open Air Opera Festival, Turandot in Szeged. From June she's been seen as Abigaille in a new production at Janáčkovo Divadlo in Brno.
In the season 2021- 2022 she made two role debuts such as Elisabetta in Maria Stuarda, and Minni in Puccini's masterpiece La fanciulla del west. Besides she's been seen as Aida, Amelia Grimaldi in Simon Boccanegra and her signature role Abigaille in Nabucco.
The end of the season was crowned by a jump in as a successful Gioconda at Chorégies d'Orange under the baton of M°Daniele Callegari.
The season 2022-23 started with a very interesting, political Tosca debut in Budapest, which will be followed by Abigaille and Tosca in Brno, Cio-Cio-San in Prague, Abigaille in Marseille …etc.
24th October, 2022. Budapest